The world is currently at a warfighting COVID-19, and at this vulnerable moment, we wish to bring you some smiles and induce some thoughts by presenting before you our heartfelt emotions expressed through art.
The idea behind this collection is what an individual thought and felt about the existing crisis. The collection pays a tribute to all those fighting COVID -19 in their own ways. All the artworks depicted here are done by NJUPT painting lovers.
Hope you enjoy it.
1. This is not only a picture. This is a positive thought and my feelings about our super heroes. At this moment our super heroes are doctors. They are doing something like angels... They protect us like super heroes.And I strongly believe that 总有一天我们会好的...And Doctors are heroes, Doctors are Gods in this story.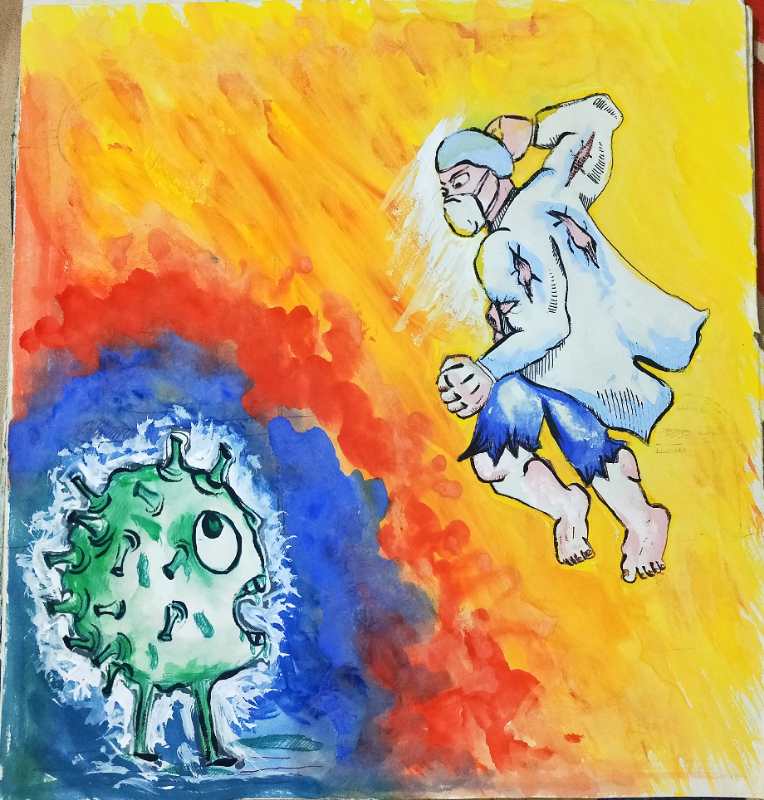 Artwork by Bishwajit Roy Prato
2. There are no doubts that this virus is a real disaster. However, we must remember that it's not the only problem that we have. There are a lot of others that are even much more serious, and we need to start to solve them right now.
Artwork by Aleksandra Spitsina

3. «The gleam of the rising sun»Dark colors mean horror, fear and dark thoughts that were in people's heads. Bright ones are the hopefulness that soon everything will be fine in spite of the clouds that covered the sun. You can say that after winter always comes spring that brings a new life.
Artwork by Yerkezhan Nukayeva
"ART IS MY HAPPY ESCAPE"